Why Gaps? The facts and timeline around why Clothing The Gap added the 'S'
Why Gaps?
The facts and timeline around why Clothing The Gap added the 'S'
Written by public health professionals, approved by our lawyer!
Earlier days: Laura Thompson (Gunditjmara) and Sarah Sheridan (non-Indigenous) co-founders of Spark Health and Clothing The Gap meet whilst working in health promotion at the Victorian Aboriginal Health Service (VAHS). Laura was the Manager of the Population Health team, Sarah later became the Coordinator. They worked alongside each other for many years at VAHS before leaving together to start a business they called 'Spark Health'. 
Photo: VAHS Healthy Lifestyle Team 
In Oct, 2017 Spark Health Australia was established. We were a small Aboriginal owned and led social enterprise delivering health promotion and Community engagement initiatives alongside Indigenous Communities in Victoria. We had previously created Aboriginal designed merchandise as incentives for participation in prior work at VAHS and understood the impact a great piece of merchandise could have in program participant retention.
In Jan, 2018 Sianna Catullo, Narungga woman (now Clothing The Gaps' Head of Brand and Marketing) joins the team and begins volunteering for Spark Health in their Community health and engagement programs while studying Health Science at University.  
Spark Health launched with a small run of singlets and jumpers. Initially the sub-brand was called 'Spark Merch' before much later coming up with 'Clothing The Gap' as a play on words referring to the Australian Government initiative 'Closing the Gap'.
In Dec 2018, the first OG Collection was launched featuring a t-shirt range in the colours of the Aboriginal Flag (red, black, yellow) and a white simple tee with the words 'Clothing The Gap' embroidered on the chest.
Photo: Clothing The Gap OG tees, photographer C-Pash.
This launch was accompanied by a promotional clip featuring Aboriginal and non-Indigenous individuals uniting through fashion and a cause. This was the first time we had invited the non-Indigenous Community to represent the brand and to wear our clothing.
On 11 February 2019, Spark Health Australia filed two applications for trademarks through IP Australia:
One, was the word 'CLOTHINGTHEGAP' and the second was our 'logo'
On 11 April 2019  Spark Health received a potential opposition to Australian trademarks on both applications from Gap (ITM) Inc. ('The Opponent') the retail giant and were given six months to transition to a new brand. Gap operates over 3500 stores worldwide we opened our first store in Dec, 2020.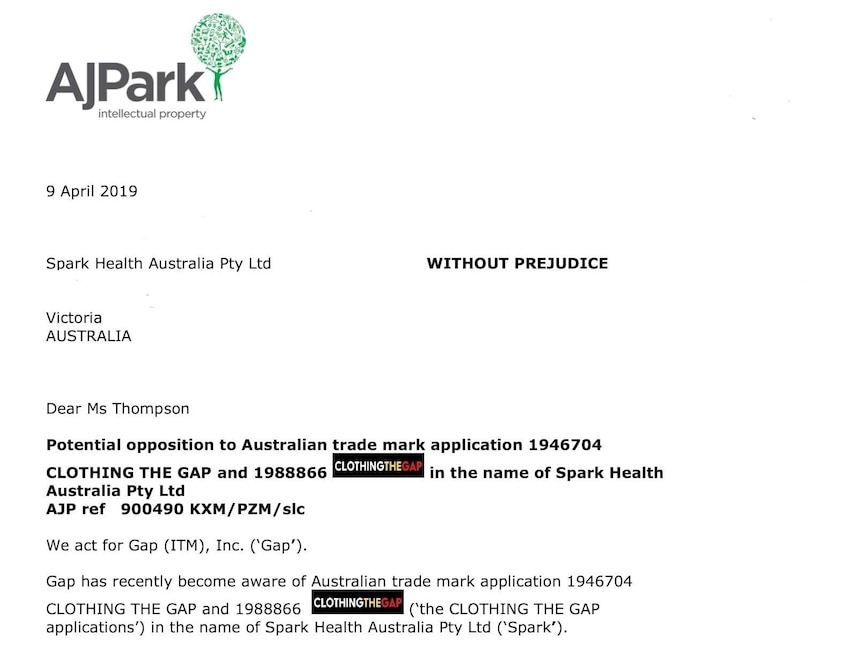 Photo: Legal Letter from AJPark on behalf of Gap Inc.
At this point, the Spark team start nervously googling and become aware of GAP's history of defending their brand around the world and across trademark classes. 
We wanted to fight and defend ourselves but, we couldn't afford legal representation.
Then in June, 2019 we received a cease and desist from WAM Clothing in regards to the use of the Aboriginal Flag on some of our merch. With months to deal with the GAP trademark issue and only three days to deal with WAM, we focused time and energy into the Free the Flag Campaign to try and free the Aboriginal flag from copyright.
Photo: Cease and Desist from WAM Clothing 
FAL Lawyers reached out after learning about Aboriginal Flag copyright debacle and offered to work with us pro-bono on the Flag copyright fight, we asked if they would also be willing to work with us on the GAP – they agreed. The lengthy legal process assisted by FAL begins.  
Photo: (L-R) Peter Francis (FAL Law), Sarah Sheridan, MP Linda Burney & Laura Thompson. 
In March 2020,  COVID-19 had taken a massive toll on the Community engagement work of Spark Health. Not wanting to lay off any staff, we shifted our focus and efforts to our online fashion label 'Clothing The Gap' which we then registered as an Aboriginal owned and led social enterprise under ASIC, Supply Nation and Kinaway.
Business as usual continues as much as possible for the brand, although the trade mark dispute lingers in the background with deadlines looming.
On the 4 July 2019,  with guidance from our amazing legal team at FAL Lawyers, we filed a Notice of Intention to Defend the Oppositions. Expert Trademark Barrister, Susan Gatford, volunteers her legal counsel for the Trade Marks Hearing. We had sufficient grounds and supporting evidence to file a defence against GAP. We were going to fight back!
In May 2020, the Free the Flag campaign reaches new heights with Clothing The Gap successfully recruiting all 18 AFL football clubs to join the campaign publicly by wearing campaign tees during Indigenous Round. This advocacy through sport led to a Senate enquiry into the Aboriginal flag which followed shortly after.
Clothing The Gap's brand recognition and public support increases and the idea of a potential rebrand becomes even more daunting. 
Photo: Collingwood Football Club, the first club to back the campaign.
On the 21 Sept 2020, Spark Health's opposition by GAP (ITM) Inc. to the Clothing the Gap Trade Mark Application No's. 1946704 is heard in the Trade Marks Tribunal. 
Hearing Officer, Kate Doherty, hears evidence from both GAP and Spark Health via zoom due to COVID-19. 
On the 13 Nov 2020 the decision is handed down in Trade Mark Tribunal with the Hearing Officer Doherty deciding in favor of GAP Inc.
The Hearing Officer held that the marks CLOTHING THE GAP are deceptively similar to the various GAP registrations. Although, there has been no actual confusion, delegate Doherty found it wasn't an essential requirement...go figure! 
Therefore, the registration of the Clothing The Gap marks has been denied. Read the full decision. 
The words 'Clothing' and 'The' are too generic and common to trademark which only left the word 'Gap' in question.
This was extremely disappointing as we obviously did not agree at all with this decision. Unfortunately, the only option available to appeal this decision was by lodging an appeal in the Federal Court. We decided against an appeals process as it would be highly costly, drag out the dispute for longer and require a dedicated time and energy effort from our team.
We instead chose to negotiate with GAP so that we could focus our energy on what really mattered – advocating for Aboriginal rights, educating, elevating the voices Indigenous people and creating social change through fashion.
The Hearing Officer awarded costs to GAP and they had a period of time to file for these against Spark Health – which they did not do.
Five months of negotiations with GAP then began around the options for continued use of 'Clothing The GAPS'. The initial response from GAP was positive towards this notion and we were relieved to able to keep most of our brand identity in tact. 
In Jan 2021, preparation for rebrand kicks off assisted by friend of the brand, Carla Scotto. Planning begins for new tags, new logos, new shop signage, new domain names, email addresses…the lot!
In Feb 2021, the terms of the negotiation is becoming clearer around the use of 'Clothing The Gaps'. GAP continue to be supportive of the transition to Clothing The Gaps however with conditions including restrictions on trade areas and stylisation (never highlighting the word 'Gaps'). 
It is frustrating that GAP can can dictate the terms of our branding but, it is what it is and unfortunately there is not a lot we can do about it.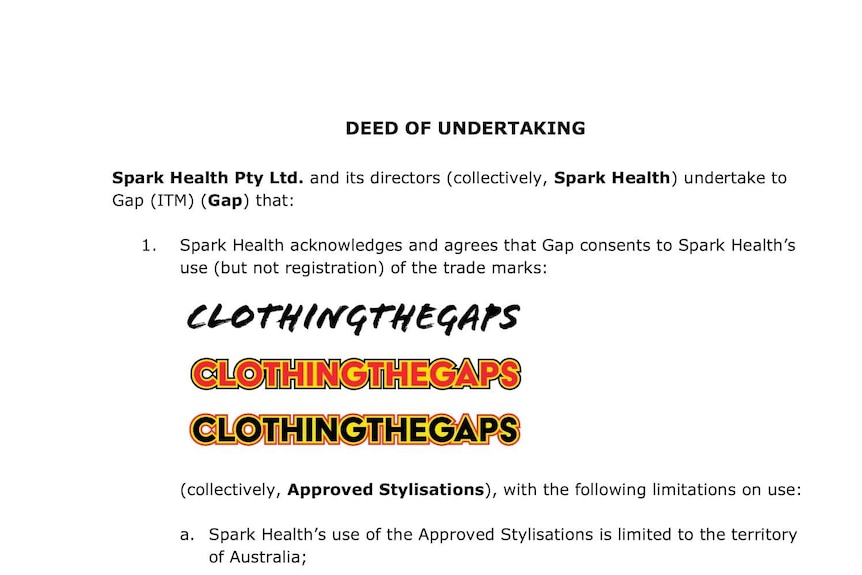 In April 2021 we reached a resolution and agreement with the GAP after 2 years of back and forth, compiling evidence, hearings, waiting and uncertainty.
What we face now is time! The clock is ticking and we have until July 31, 2021 to have all reference to 'Clothing The Gap' removed from stock, website, collateral and branding.
A reflection from us…
We are health promotion professionals running an Aboriginal street wear brand with an incredible supporter base. It was you (our supporters), that comforted us when we had no clarity or understanding about what was next or what we might have to change our name too.
Because we are not led by profit but by purpose, we were less worried about the financial impact and stress of this dispute, but more about the potential loss of impact by being tied up in unnecessary legal battles over a WORD!
There is so much more important work that still needs to be done to 'close the gap' and to address the devastating social injustices impacting on Indigenous people and communities... and we are glad we can move on! 
This is a new chapter for Clothing The Gaps, but we must remember that the fight to #FreeTheFlag continues!
We are excited to display signage on our new store in Brunswick and shout from the roof tops "we're not a pop up – we're here to stay".
Photo: Some of our new Aboriginal and Torres Strait Islander team recruits at Clothing The Gap.
Read more: Ahmed Yussef, ABC News, 17 April, 2021,  'Aboriginal fashion brand Clothing The Gap to rebrand after two-year legal battle with US giant Gap'.
---
5 comments
---
---