In 2019 we were served a cease and desist order from WAM Clothing for producing merch featuring our beloved Aboriginal flag due to the world wide exclusive licensing agreements attached to the copyright over the flag.

The Free the Flag Campaign was sparked to change these arrangements and became a 960 day fight for flag equality.
For over two years we have been fighting to see the Aboriginal flag free from the restrictions of copyright. The Government's announcement on the 25th Jan, 2022 sees the iconic flag, that has become a symbol of Aboriginal Australia, freed and available for public use after its designer,Luritja man Harold Thomas, agreed to transfer its copyright to the Commonwealth following long negotiations.
This is an enormous collective win for everyone who has been a part of this movement. Public advocacy has paid off.  The flag is now back in the public domain where it belongs as the public symbol that all flags should be. 
To the Aboriginal Community organisations, the Aboriginal Community leaders, the people who gave evidence at the Senate inquiry, the 165,000 supporters that signed the Pride not Profit petition, the countless people that wrote to their MPs, to the sporting clubs,  and many politicians across all parties – thank you, together we have created real change.
For everyone that has received a Cease and Desist for the use of the flag, or was forced to ask permission for its use and pay a fee to celebrate it – we are so glad that the chains of the copyright have been released. Let us not forget that WAM Clothing and Gifts Mate held worldwide exclusive licenses for the use of the Aboriginal flag whilst Director of both companies, Ben Wooster, still owes $2.3 million to the ACCC for exploiting Aboriginal art and culture.
The journey of a truly free flag still continues with technicalities behind the agreement still unclear, but this is a giant leap for flag equality from what we have seen in recent years.
In the past two years we have seen so many incredibly creative iterations of the Aboriginal flag whilst working around the copyright. We are so excited to see the Aboriginal flag return to Communities and to see people wear and celebrate it without fear of retribution.
We won't ever forget seeing Free the Flag tees and conversations swarm the AFL's Sir Doug Nicholls Round of 2020 or the countless submissions to the Senate Enquiry. There are so many moments to reflect on in this campaign.
When we moved in to our Sydney Road space on Wurundjeri Country, one of the first things that we did was install a giant Free the Flag billboard. Today we got to spray paint a 'D' to make it Freed the Flag. The celebration on the street, the cars cheering us on from the traffic – this really is a win for everyone.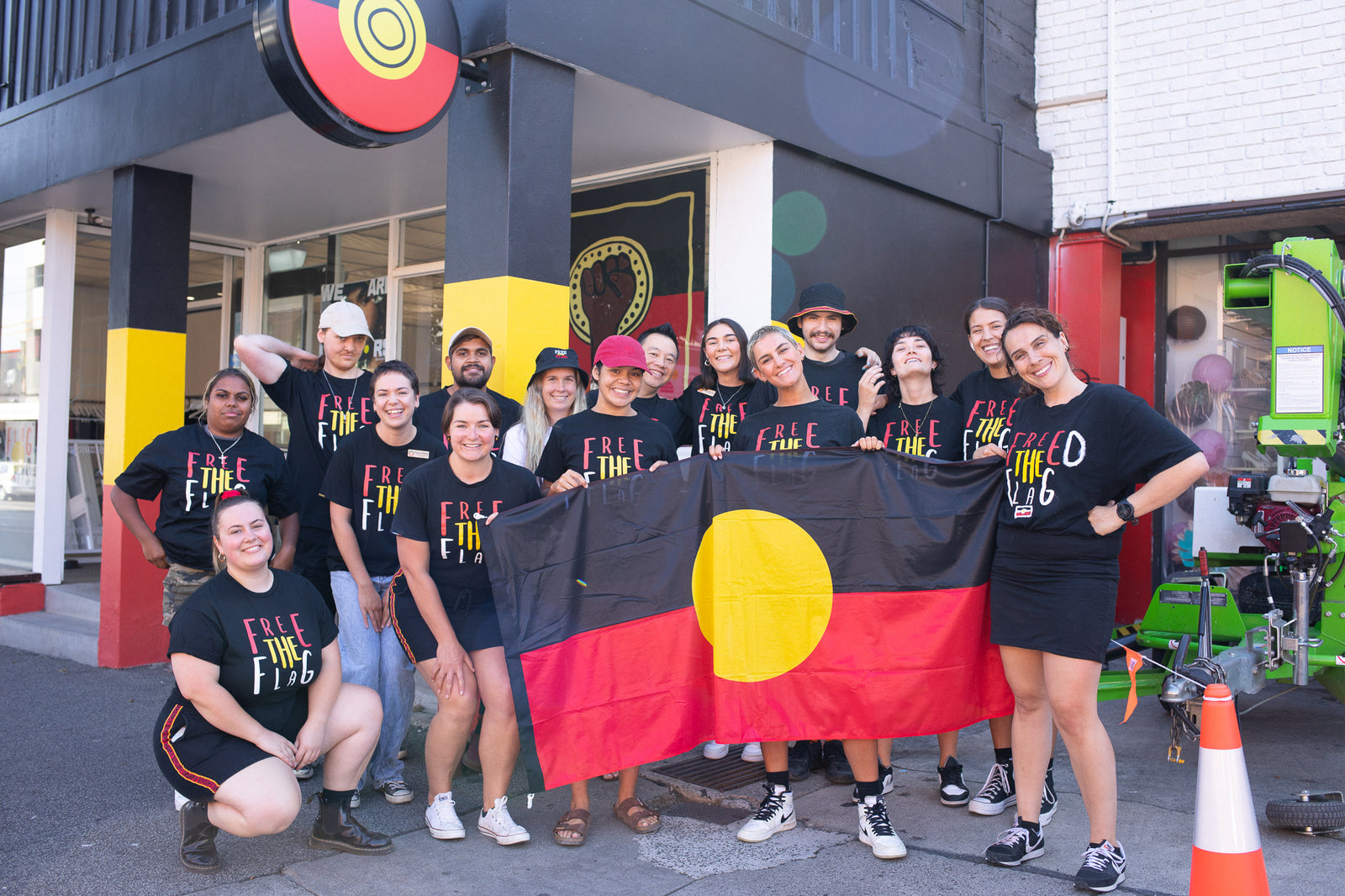 Come visit the big D
744 Sydney Rd, Brunswick, 3056